GUITAR CHOP SHOP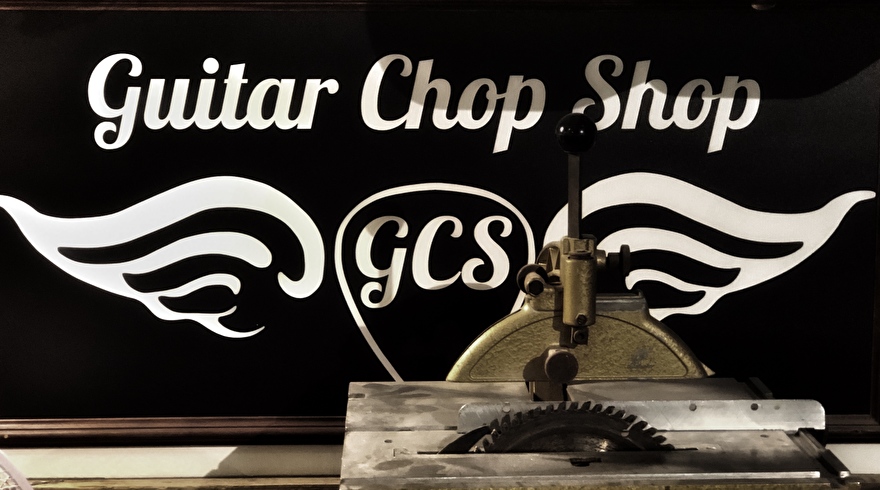 KVK 27322364 BTWNR NL - BANK ING NL48INGB0660506106
Tel 0703920088
info@guitarchopshop.com
GUITAR CHOP SHOP
WIJ ZIJN OPEN!
>REPARATIE OP AFSPRAAK<
Afspraak Via E-Mail 24/7 , via Facebook, Instagram of Google zijn wij ook bereikbaar voor het maken van een afspraak.
BELANGRIJK:

Beste Rocksterren, gitaarliefhebbers, bassisten, ukelelespelers.
Bijna allemaal zijn wij nu thuisspelers geworden door de maatregelen in strijd tegen het Coronavirus.
Je bent misschien wel bezig met je gitaarskills te verbeteren. Bezig met muziek opnemen,of met het schrijven van nieuwe muziek. Of je hebt tijd om eindelijk eens gitaar te leren spelen!!
Muziek helpt ons allemaal door deze moeilijke tijd heen.
🎸
wij willen zolang mogelijk door met de winkel en jullie helpen met repairs of aankoop van gitaar die je bij ons in de winkel hebt zien hangen, of een setje snaren, parts voor je eigenbouw enz. Het meeste wat wij verkopen zie je op onze website.
Wij hebben jullie hard nodig op dit moment.
Wij ZIJN GEWOON OPEN;
Dat is nodig omdat Guitar Chop Shop onze passie is en wij hiervan rondkomen Voor onze 4kinderen thuis. Wij kunnen niet vanuit huis werken want wij hebben een winkel, Sander is absoluut aanwezig en Eva zorgt thuis voor de kids en het beantwoorden van e-mails Ect. en ook voor het maken van afspraken..
E-Mail 24/7 , via Facebook, Instagram of Google zijn wij ook bereikbaar.
Of bel ons tussen 11.00-17.00 wo t/m za
Voor snaren en noodzakelijke aankopen, klop even aan, staat er al een klant, wacht heel even in de hal tot je aan de beurt bent.
Wij verwachten dat je niet ziek bent als je naar de winkel komt.
Wij houden onze gitaren schoon, en na bezoek ontsmetten wij de gitaren, pin en deurknoppen enz.
.
tot slot:
iedereen die door het virus ziek is geworden wensen wij beterschap, kracht en liefde toe. Wij leven met je mee. Wij gaan door omdat we zeker weten dat muziek helpt om door deze donkere en onzekere tijd te komen.
iedereen die ons steunt door bij ons te winkelen ,zijn wij ook dankbaar voor.

Sander en Eva,
* Guitar Chop Shop *
Dear Friends, rockstars and cool people:
we are still open And please we need your support! Buy your strings Local!
we also can order a lot for you!
we are thankful for your visit!

REPAIRS BY APPOINTMENT Email: info@guitarchopshop.com
Wednesday from 11.00 till 17.00
Thursday from 11.00 till 17.00
Friday from 11.00 till 17.00
saturday from 11.00 til 17.00
!! CLOSED Sunday, Monday and Tuesday CLOSED !!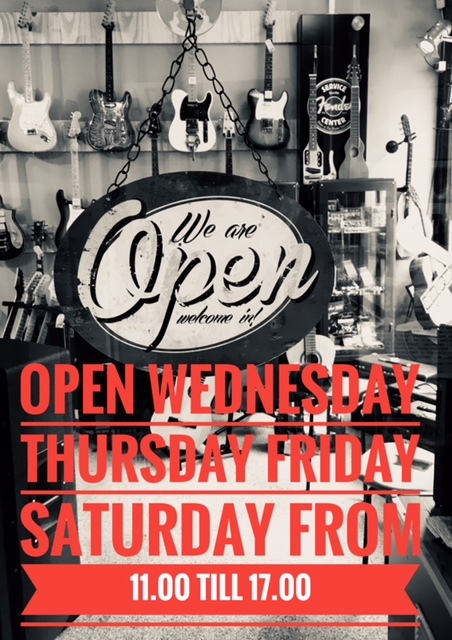 ---
S.O.S.
"Snaar Opzet Service"
Restringing a guitar with small maintenance.
Polishing the frets, cleaning and oiling the fretboard, a thorough polish and oiling the machine heads if it's necessary. ...
And of course new fresh strings, put on the correct way.

All of that starting at €25,- including strings!